LASIK Surgery Austin
SHARPEVISION AUSTIN
LASIK Eye Surgery Austin
The New Standard of Vision Correction in Austin
We're changing how you see the world by restoring your natural, uncorrected vision using the latest in laser technology and customized procedures. And all for a fair price. Welcome to SharpeVision.
Visit Us
Our Services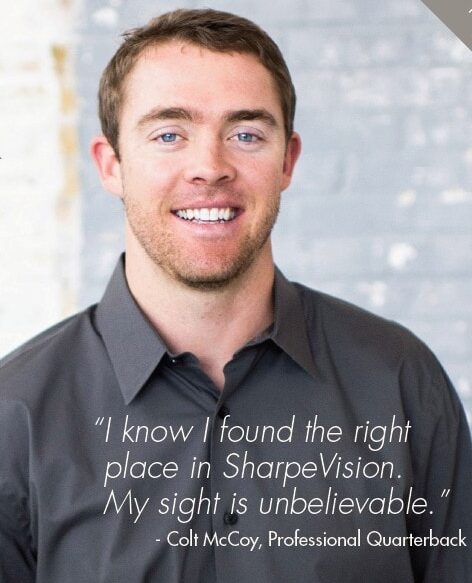 MODERN LASIK AUSTIN
Goodbye glasses! SharpeVision is bringing custom all-laser LASIK eye surgery Austin paired with the most modern technology and techniques to everyone. Improve your vision and your life with less risk, less expense, and in less time than contact lenses.
Our Services Include
About Austin LASIK Surgery
MODERN LENS AUSTIN
This is not your parents' cataract surgery: laser-assisted cataract extraction with multifocal intra-ocular lenses make it so there are no needles, no blades, and potentially NO glasses afterward.
Our Services Include
Custom Vision Restoration Procedure
Advanced Vision Correction Lens Replacement
About Austin Modern Cataract Surgery
FAQs
You have questions. We have answers.
No, the laser can't burn a hole in your eye. But it's a good question. Find the answers to our most frequently asked questions at SharpeVision. Some of them may surprise you!
How is the LASIK procedure performed at our Austin, TX clinic?

At SharpeVision, we perform only all-laser LASIK. Your surgeon will use an extremely precise femtosecond laser to create a flap in the cornea. The surgeon then uses another laser to reshape the cornea, correcting the refraction problems in the eye.

LASIK is one of the most commonly performed eye laser surgery for many reasons:

96% of patients get their desired vision after LASIK nearly immediately. Vision also continues to improve over several weeks to months after.
New technology like the femtosecond laser is faster, safer, and more comfortable than before.
It's a relatively quick, painless procedure with a short recovery period.
It's safer than wearing contacts, with a lower risk of infection post-operatively too.
No bandages or stitches are required after LASIK.
It's a safe long-term solution for people with vision problems, even allowing for adjustments to be made years later if your vision changes with age.

LASIK is also more convenient in the long run, and with SharpeVision's Austin LASIK surgery, more cost-effective too! We have the best LASIK Austin prices and a price-match guarantee to prove it!

What is LASIK Surgery?

LASIK, an acronym for Laser-assisted in situ Keratomileusis, is a procedure that involves the use of a laser or microkeratome to reshape the eye's cornea to improve vision. The cornea is the clear tissue covering the front of the eye that helps focus light rays to create an image on the retina. Imperfection of the shape of the cornea causes images to be distorted on the retina, thus vision problems such as:

Nearsightedness (Myopia)
Farsightedness (Hyperopia)
Distorted or blurred vision at any distance (Astigmatism)

How much is laser eye surgery in 2023?

The average cost per eye for LASIK and PRK in the US is $2300, with a range from $1500 to $3000. An advertised price lower than $1000 is typically only for the lowest prescriptions without astigmatism. Most LASIK providers will make you come in to receive a quote for surgery. At SharpeVision our pricing is clear and consistent and listed on our pricing page, so you'll know what to expect to pay for LASIK before your consultation- just compare our pricing to the prescription of each of your eyes. For example, if your left eye is -1.25 and and your right eye is -1.0, your total cost of LASIK would be $495 + $2395= $2890 for both eyes. The price is the same whether you have LASIK or PRK. We also have a price-match guarantee: if you happen to get a lower price quote for LASIK or PRK somewhere else, we will match the price for service, just bring in your paperwork. It's that simple!

What are the odds of LASIK eye surgery going wrong?

There are very few things that can go wrong during the surgery, and the chances of any of those things occurring are slight. More important to the outcome of your surgery, we advise everyone to check out the surgeon's credentials, experience, online presence and reviews, and to then visit the center and get an overall feel for the practice. Did you have a good feeling about the team, the physical appearance and processes internally? I believe that a higher volume of patients is good for practice consistency and to hone results. However, if you feel like they're rushing you through, you may not receive the same attention and responsiveness of a smaller practice. This can be an issue at a multi-surgeon clinic. I feel like we have found the perfect combination at SharpeVision: we do a lot of procedures, which keeps us polished, and our surgeon-run boutique centers keep our patients at the front of everything we do.
ALL FAQs
A Complete Experience
SharpeVision looks at things a little differently. Take LASIK. Just because you're having a procedure doesn't mean you can't be comfortable. And just because you're comfortable doesn't mean you should have to pay more. Everything can be improved if you look at it with the right set of eyes. And that's what we're doing for you. You get the best price combined with the best experience. Not just giving you a new view, but a new outlook. So when you leave here, you'll be looking at things differently. You'll be looking Sharpe.
Why SharpeVision
Innovative Technology

Personalized Experience

Knowledgeable Team

Surgeon Owned
Clear up the Questions
LASIK Myths DeBunked
Watch Video
Official LASIK Provider
Trusted by the Best
Our surgeons have had the privilege of treating a wide range of professional athletes, coaches, and trainers. We are honored to partner with and support AUSTIN FC, and honored that the players and staff trust us with their vision.
Official Team Site
LASIK austin
Meet Our AUSTIN Surgeon
Candidate Quiz
Are you eligible?
The majority of people (90%) who meet the age and general health requirements are good candidates for LASIK in Austin. However, there are some conditions that exclude certain patients. Take the quiz to see if LASIK is right for you.
Testimonials
The whole process was smooth and efficient and pleasant from the first call to the check up a month after the procedure. Love the lifetime guarantee as well.
Laura — Austin
SharpeVision provided me the best once-of-a-lifetime experience. Their staff is super friendly and I never once felt unwelcome. I totally recommend these guys.
Jonah — Austin
From start to finish SharpeVision was professional, kind, informative, and beyond expectations. The staff is amazing and the doctors are incredibly knowledgeable.
Jillian — Austin
Had a wonderful experience here for LASIK! Will be highly recommending it to all friends and family who are considering! Dr. Lancaster was phenomenal!
Conrad S — Austin
My experience with SharpeVision was exceptional. The staff was very friendly and helpful throughout the entire process.
Amy — Austin
Getting LASIK at SharpeVision was the best decision! If you are considering LASIK you need to do it here!
Julia — Austin
Eye'm with sharpe
Our Clients are Our Vision Statement
Anyone can be affected by poor vision. We get to help people from all walks of life, and hear some amazing stories along the way.
Best LASIK Austin
Goodbye Glasses