Does Insurance or HSA & FSA Cover LASIK?
I Want LASIK, But…
Many people want LASIK, and for a variety of reasons they have not yet had it. Here are the top reasons for not getting LASIK that I hear:
I've got astigmatism!
My prescription isn't stable.
I heard it doesn't last.
My optometrist told me I'm not a candidate.
I don't want to have reading glasses.
I'm afraid!
It costs too much, I can't afford it.
I will do it if my health insurance covers LASIK or PRK.
There are more-that I'm forgetting. I believe I've heard every excuse in the book, if there is a book. And while I will address numbers one through seven in separate blog posts, I can address the "is LASIK covered by insurance" part.
Another chapter that could be in the book is eye surgery and taxes. Many people are simply confused about what types of tax expenditures that people can write off each year that relate to medical expenses. In some situations, certain types of eye procedures, like LASIK and PRK, can be written off for tax purposes, especially if those medical expenses take a hit on your Adjusted Gross Income. We'll take a look at that a little bit later.
Insurance or no insurance, LASIK is a classic "no-brainer!"
First and foremost, LASIK is an amazing value. Really. Think for a moment about how little this really is in the scheme of things, and how much value it brings to your life, over other things you'd spend $4000 on especially glasses and contacts!) Not only does a LASIK laser procedure improve your quality of life – think of camping, back country hiking, scuba, snorkeling, wake surfing, going to the gym, you name it – you can experience it without worrying about your forgetting to pack your contacts, your contact lens falling out, getting dirty, causing pain, eyes becoming dry, being stranded and not being able to see what is around you even if it's dangerous. All these things have happened to our patients before having Lasik and none of them afterward. Personal note: I remember on my honeymoon a VERY long time ago seeing fins around me while floating the Atlantic. I was terrified, only to learn when I got back to the beach that it had been dolphins that I wish I could have seen instead of thinking my life was about to painfully end by a shark right after my wedding. I had -8 glasses until I had LASIK in 1998, as have over 90% of my fellow refractive surgeon colleagues who are candidates for LASIK. I have saved over $15,000 in contacts and glasses (not to mention seeing the sea life around me). The cost is a one time fee of an average of $4,000. The lifetime benefit of being free from poor vision, together with the savings on glasses, contact lenses, contact lens solution is tens of thousands of dollars. Why would you not want this?
Yeah, but does insurance cover LASIK or PRK?
Does insurance pay for LASIK? The answer for most people is: No. Well, how can I pay for LASIK? One way to be more flexible is financing. Check out how much, and how, to pay: https://sharpe-vision.com/pricing/ Another way for a lot of Seattleites is vision insurance. If my insurance plan pays for LASIK, I'll do it. In Seattle, we are fortunate to have an extremely robust tech sector, and new tech companies are highly competitive for people. Benefits are one way they attract and keep their highly sought after employees. One benefit a few companies are providing is LASIK and PRK. How to get healthcare insurance to pay for LASIK? Well, one way is to work for one of these amazing companies! There are just a few companies that we know of that offer this benefit as part of their plans. As of this writing, they are:
Zillow 80%
Bill and Melinda Gates Foundation 100%
Microsoft
Adaptive Biotechnologies
Amazon
This list is changing over time, with more Seattle tech companies offering it as a benefit. I wouldn't hold my breath though. Insurance companies only think about now, this quarter, this month, and if they pay for LASIK now, it's a big expense. They, of course, haven't considered or just don't care that you'd benefit from this for decades. That won't help them meet their income to expense ratio for this quarter. It's a shame, but reality.
But seriously, how can I get insurance to pay for LASIK?
While we are grateful to these wonderful companies for providing insurance that covers LASIK, most of us still have to pay out of pocket. Fortunately, there is a wonderful government benefit available to everyone who is employed that can reduce the LASIK price significantly. That benefit is an HSA or FSA account that you can set up through your employer. Take this example: if the cost of laser vision correction is $4000, and your tax bracket is 25%, you must earn $5333 to pay for it without an HSA. If you have an HSA, then you must earn $4000 to pay for LASIK, and save $1333.
LASIK/PRK cost: $4000
Without HSA: If you earn $5333, you have $4000 after taxes to spend on LASIK or PRK
With HSA: If you earn $4000, you can spend $4000 on LASIK or PRK, and save the taxes
Total savings: $1333 of your hard earned dollars. Now you can buy those designer sunglasses, a tank of gas, dinner out, and still have $500 left over. And your vision is clear and crisp without any glasses or contacts to buy again. How's that sound as a LASIK lifestyle upgrade?
Pretty great benefit! How does this work? Well, it's slightly different for every employer's plan, but toward the end of the calendar year your employer has what's called "open enrollment" where you choose how much money you want to set aside into your company's plan. Then in the following calendar year, you can use that money to pay for LASIK, PRK, or any other medical procedures, doctor consultations, medications, medical devices and other qualified expenses. We provide you a receipt for your LASIK or PRK procedure and you submit it through your company's portal or their provider that generally is included on major payroll companies such as ADP and Paychex.
Conditions Covered by Insurance for LASER Surgery
Does insurance cover LASIK for certain conditions? And if so, what insurance covers LASIK for those conditions? Well, the short answer is that in most cases, when it comes to laser eye surgery cost, insurance won't cover it. But there are situations where you can figure out how to get insurance to pay for LASIK.
Here are a few situations of vision insurance that covers LASIK:
Eye surgery for refractive errors that are caused by surgery.
Eye surgery for refractive errors caused by injury.
Severe refractive errors, although there isn't a consistent impairment level for which the coverage would universally apply.
Situations where health or physical limitations prevent the patient from wearing glasses or lenses.
Does Insurance Cover LASIK for Astigmatism?
Does vision insurance cover LASIK for astigmatism? Well, unlike cataract surgery, getting surgery for LASIK covered can be a challenge. Insurance companies classify LASIK as an elective procedure, arguing that glasses and contacts provide a suitable alternative for eye care.
Even More Ways to Save on LASIK Surgery
The answer to questions like "will insurance cover LASIK?" is most likely no. But there are other resources to save on the LASIK eye surgery cost without insurance:
You could look into financing options that help spread out the full payment amount.
Look into a FSA (Flexible Spending Account) or HSA (Health Savings Account) through your employer.
Take advantage of discount promotions and special offers at SharpeVision Modern LASIK.
Will my LASIK or PRK procedure be a tax writeoff?
First and foremost, it is important to understand what a medical expense is, in terms of tax purposes. In most situations, you cannot deduct insurance premiums from an employer-based health plan. You can only write off premiums from your workplace insurance if they are included in Box 1 of your Form W2.
Medical expenses include, according to the IRS, are the "costs, cure, mitigation, treatment, or prevention of disease, and for the purpose of affecting any part or function of the body." That portion of the IRS code is where most people stop. They assume that medical expenses fall under "health and dental procedures." However, if you further review the IRS code, you will find that it allows for payments that you make for eye exams, contact lenses, glasses, and even eye surgery.
The eye surgery section of the IRS code says that any procedure used to treat defective vision, including "laser eye surgery or radial keratotomy," can be written off as a medical expense.
When is LASIK eye surgery a tax writeoff?
Generally speaking, LASIK surgery and any other type of eye care that you seek out is a writeoff if you are paying for the expense out of your own pocket. If you keep track of your medical expenses throughout the year and you find that it exceeds 7.5% of your AGI (Annual Gross Adjusted Income), anything over that 7.5% is eligible to be written off.
You can know your annual gross adjusted income by looking at Line 11 of your 1040. Any of your medical expenses over 7.5% of that number can be written off and should be.
Another caveat to take into account is your approach to taking taxes. You can either take the standard deduction or itemize your deductions individually. If your itemized deductions save you more than the standardized deduction, you should most definitely choose this route and write off your LASIK or other eye surgery procedures.
The Conclusion
So does health insurance cover LASIK? Probably not. Even if you can't get your health insurance to cover LASIK, you can still consider it as a tax write off if it makes sense to do so and your medical expenses for the year will be more than 7.5% of your AGI. My conclusion is: everyone should have LASIK, PRK or an ICL as soon as they are adults, whether or not your insurance covers it. LASIK, PRK and ICL ( https://us.discovericl.com ) are all approved for 18+ years of age. And with good reason: they are wonderful, time-tested procedures using cutting-edge technology that millions of people have had and are enjoying now. You owe it to yourself to love your best life, check us out, get over the fear, cost issues, and invest in yourself. Give us a call today, or schedule a free visit consultation. Our doctors will do a comprehensive eye exam at no charge and talk next steps: 425.451.2020 0r https://sharpe-vision.com
SharpeVision provides a lasik calculator for you to know the cost estimate of your eye surgery.

-Dr. Matthew Sharpe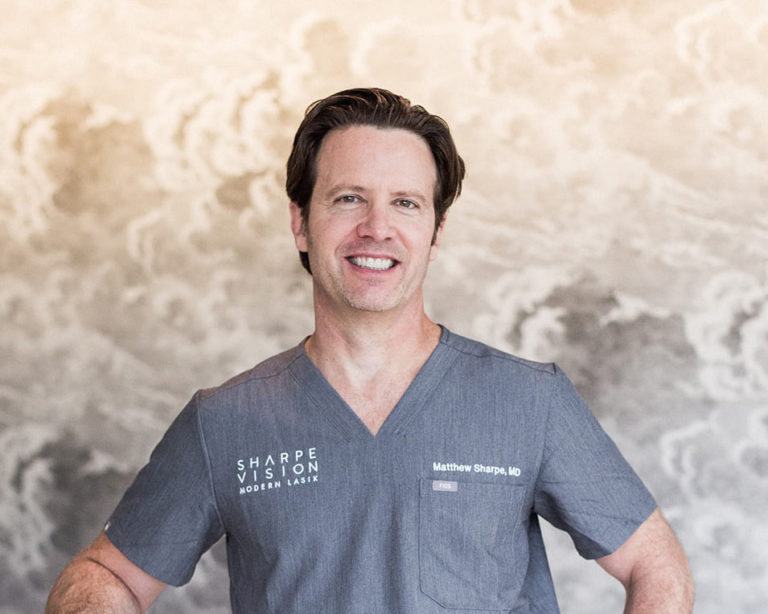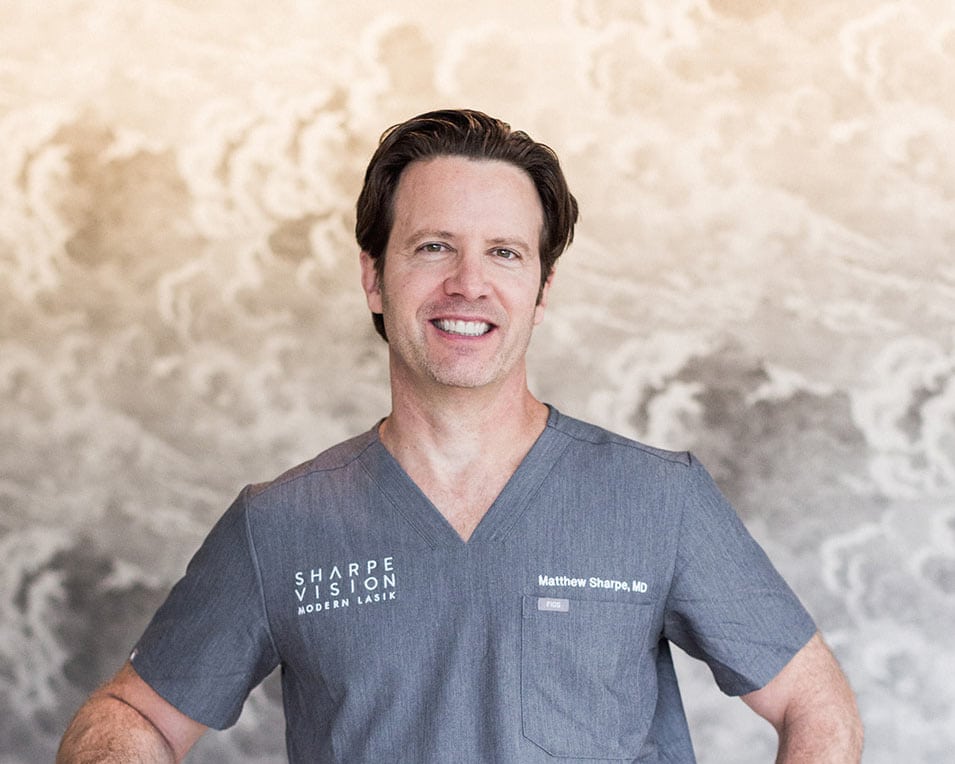 Dr. Matthew R. Sharpe
Dr. Matthew Sharpe is an Ophthalmologist specializing in refractive surgery and the owner SharpeVision MODERN LASIK & LENS, with offices in Seattle, Austin, and Chicago. Dr. Sharpe is a world traveler, pianist, marathon runner, motorcyclist, and fluent French speaker. He enjoys every second of life, but finds he is happiest at home cheering on The Ohio State Buckeyes with his wife, three children, and four dogs.