LASIK Surgery Chicago
SharpeVision Chicago
Laser eye surgery Chicago
The New Standard of Vision Correction in Chicago
We're changing how you see the world by restoring your vision using the latest in laser technology and customized procedures. And all for a fair price. Welcome to SharpeVision.
Visit Us
LASIK Chicago
Our Procedures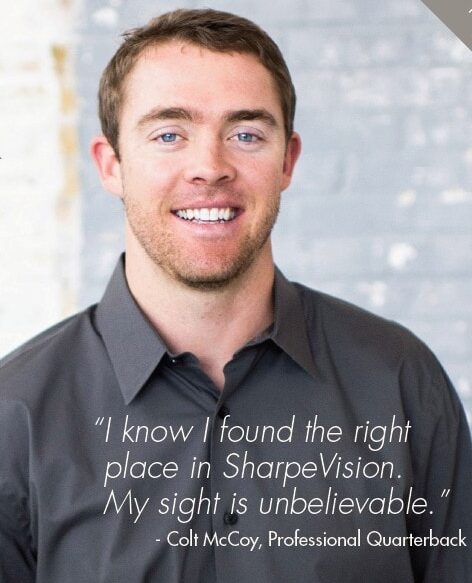 MODERN VISION CORRECTION
Goodbye glasses! SharpeVision is bringing custom all-laser vision correction procedures paired with the most modern technology and techniques to everyone. Improve your vision and your life with less risk, less expense, and in less time than contact lenses.
Our Procedures Include
Custom All-Laser Vision Correction
Custom All-Laser Vision Correction with a Twist
Advanced Vision Correction with Implantable Lenses
About Chicago LASIK
MODERN Vision correction
We have solutions to bring back clear vision when the lenses of our eyes start to get less flexible, around our mid 40s.  They may include procedures from Milestone 01 or Monovision, which is an excellent option to potentially allow you to have good distance and near vision. *Cataract Removal and RLE coming soon!
Our Procedures Include
Learn about EVO ICL™
LASIK eye surgery chicago
Welcome to the Future of LASIK
Is LASIK right for you? In most cases, yes! While not everyone can safely have laser vision correction, about 90% of the patients we see are great candidates for LASIK. And because we utilize the latest techniques and newest technology, we're able to treat many patients who weren't candidates in the past. So, if you've been told that you aren't a candidate for LASIK, you very likely could be now with SharpeVision.
All Laser LASIK, Always
LASIK for ALL. We're not your typical LASIK provider in Chicago. Total transparency is our mission. We don't have corporate shareholders. We don't have quotas. We only do custom all-laser vision correction surgery with the latest and greatest tech. This means that Dr. Sharpe can tailor the procedure specifically to your unique eyes, giving you the best possible result.
Over Accomplished, Not Overpriced
We believe that everyone should have access to the best technology at a fair price and in an inspiring environment. Whether you are interested in LASIK, PRK, or ICL, you can know you are getting the best value possible because our pricing is transparent with no hidden fees. Check out our LASIK Cost Calculator to see how much LASIK can save you vs contacts and glasses. We also offer guaranteed in-house financing!
Price Match Guarantee
We believe that we give our patients the best experience at the best price, but if you happen to find a better price somewhere else, you can still have the SharpeVision experience. Just bring in your exam paperwork with the quoted price from another local LASIK provider within three months of your consultation, and we'll match the price for service & give you an extra $100 off! It's that simple. So when you're ready, we've made it easy to book your free consultation online, but we'd also love an old fashioned phone call. We'll see you soon!
BELIEVING IS SEEING
THREE VISION MILESTONES
As adults, our eyes predictably undergo three major milestones. At SharpeVision, we have vision correction solutions for each of these milestones regardless of your age or glasses prescription.
GOODBYE GLASSES, HELLO LASERS!
MILESTONE 01: OCULAR MATURITY (AGES 18-45)
As we reach adulthood, our glasses prescription stabilizes, and the lenses in our eyes are still flexible. We heal quickly and can enjoy the benefits of vision correction for a very long time, making young adulthood an ideal time to have laser vision correction. At SharpeVision, we have solutions to correct nearsightedness, farsightedness, and astigmatism. The most common procedures recommended at this age range are LASIK, PRK, and EVO ICL.™
meet middle age. Got readers?
milestone 02: dysfunctional lens (ages 45-60)
As we age, we lose flexibility in the natural lens of our eye. This is called presbyopia, or Dysfunctional Lens Syndrome (DLS). Everyone loses lens flexibility and will need glasses or contacts for either distance vision, near vision, or both at about 45 years old or older, regardless of previous vision correction surgery. The most common procedures recommended for this age range are RLE and Monovision, however, LASIK, PRK, and EVO ICL™ may also be appropriate.
Good night fog. Good day sunshine!
milestone 03: Cataract Development (Ages 60+)
When we're in our 60s and older, the lenses of our eyes become less clear. This loss of clarity is called a Cataract, and it usually progresses slowly.  You may first start to notice increasing difficulty driving at night and glare from oncoming headlights. At this vision milestone, Cataract surgery is recommended to remove the cloudy, inflexible lens and replace it with a clear, custom lens (IOL). *Good to know: Cataract surgery is the same procedure as RLE, the only difference being that your lens is cloudy at this point, so your insurance may cover a portion of the cost.
best lasik surgeons in Chicago
Meet the Doctors
Candidate Quiz
Are you eligible?
The majority of people who meet the age and general health requirements are good candidates for the LASIK surgery procedure. There are some conditions that exclude certain patients. Take the quiz to see if LASIK is right for you.
Best LASIK Chicago
World-class Vision Specialists
One of the top LASIK surgeons in the world, Dr. Sharpe opened SharpeVision — a modern laser vision correction center — to bring the best LASIK surgeons to Chicago and the best results to everyone, all for the best price.
About SharpeVision
Testimonials
My experience with LASIK at SharpeVision couldn't have been better! The staff were so kind and constantly made sure I felt comfortable and all my questions were answered. Thanks for my new eyes!
William S — Chicago
If you are considering LASIK, I highly recommend SharpeVision Modern LASIK, it's the best decision I've ever made!
Sam — Chicago
The whole process from the consultation to the post-operation appointment have been smooth and helpful. The office is welcoming, warm and an overall great environment.
Paulina — Chicago
I highly recommend SharpeVision to anyone sick of glasses and contacts.
Jon — Chicago
Everyone on staff is so helpful and professional and kind. I would recommend SharpeVision to anyone I know.
James V — Chicago
I literally said to Dr. Lancaster "That was it? THAT WAS IT?" I could see immediately after, and now I'm seeing better than 20/20.
Doug O — Chicago
Dr. Sharpe was very nice and took the time to make sure I understood everything that would go on during the procedure.
Alexandra — Chicago
eye'm with sharpe
Our Clients are Our Vision Statement
Anyone can be affected by poor vision. We get to help people from all walks of life, and hear some amazing stories along the way.
FAQs
YOU have questions. We have answers.
No, the laser can't burn a hole in your eye, but it's a good question. Find the answers to our most frequently asked questions at SharpeVision. Some of them may surprise you!
Can you blink during LASIK?

During the surgery, your surgeon will thoroughly numb the surface of your eyes with specialized drops. This makes it so you won't feel the need to blink. He or she will then insert an instrument that will hold your eyelids out of the way. If you try to blink, your eyelids will not move. Your surgeon will talk to you while he is numbing your eyes in preparation for surgery, so you know what is coming next and won't be startled.

Can you tell if I'm a candidate for laser eye surgery by looking at the prescription from my optometrist?

No, not just by looking at your prescription. Your general optometrist measures your prescription and level of astigmatism for glasses and contacts and can refer you to a LASIK provider, but they cannot confirm if you will be a candidate for laser eye surgery. To know if you are a candidate, you need to have a complete eye exam at a LASIK provider. At SharpeVision, we use highly specific equipment to topographically map the surface of  your eyes and get multiple prescription measurements, among other things. Our refractive surgeon-trained optometrists will then discuss all the results with you and determine if you are a candidate for LASIK.

What are the odds of LASIK eye surgery going wrong?

There are very few things that can go wrong during the surgery, and the chances of any of those things occurring are slight. More important to the outcome of your surgery, we advise everyone to check out the surgeon's credentials, experience, online presence and reviews, and to then visit the center and get an overall feel for the practice. Did you have a good feeling about the team, the physical appearance and processes internally? I believe that a higher volume of patients is good for practice consistency and to hone results. However, if you feel like they're rushing you through, you may not receive the same attention and responsiveness of a smaller practice. This can be an issue at a multi-surgeon clinic. I feel like we have found the perfect combination at SharpeVision: we do a lot of procedures, which keeps us polished, and our surgeon-run boutique centers keep our patients at the front of everything we do.
FAQs
Chicago LASIK surgery
Goodbye Glasses
Insights About Your Eyesight