LASIK VISION CENTER: CENTER FOR SURGERY & CORRECTION
LASIK for All
One of the top LASIK surgeons in the world, Dr. Sharpe opened SharpeVision – a modern laser vision correction center – to bring top LASIK eye doctors and the best results to everyone, all for the best price. Each SharpeVision laser eye clinic is doctor owned & run & has grown organically through our boutique, patient-focused process that is fully customized to your unique eyes. So when you are looking for LASIK eye care, check out the LASIK provider SharpeVision MODERN LASIK, where you will find the best LASIK surgery center, the best laser eye care center, & of course the best LASIK eye care.
laser eye clinic
For your eyes only
We've thought of everything, so you don't have to. You get the best price combined with the best experience, not just giving you a new view, but a new outlook. So when you leave here, you'll be looking at things differently. You'll be looking Sharpe.
Only All-Laser

We understand how important good vision is for living life to the fullest, no matter your age. Therefore, we offer a range of laser vision services to address the most common eyesight issues people face. When you come to us, you aren't just a patient at a LASIK company; you are getting access to the best possible solutions for poor eyesight throughout the lifetime of your eyes.

Top Technology

We use the newest technology available, which helps minimize risks, increase the number of people who can have the procedure, & make it more affordable for our patients. At SharpeVision centers, we only use all-laser LASIK because it is safer, faster, & better for you!

Transparent Pricing

We're over accomplished, not overpriced. SharpeVision may be the first provider to list some of our prices right on our website. No hidden fees. And because we are committed to LASIK for all, we offer our services for a fair price & have a price-match guarantee. If you find a better price elsewhere, we will match it, & you will get the same SharpeVision experience!

Surgeon Owned

When considering eye surgery, the LASIK provider you end up going with can make a big difference in the types of outcomes you can expect. At SharpeVision's laser vision correction center, we have put together a team of refractive surgery specialists who run their clinics based on what is best for their patients, not the boardroom, to give you peace of mind & confidence that the procedure will go smoothly.
WHY SHARPEVISION
laser vision correction center
Our PROCEDURES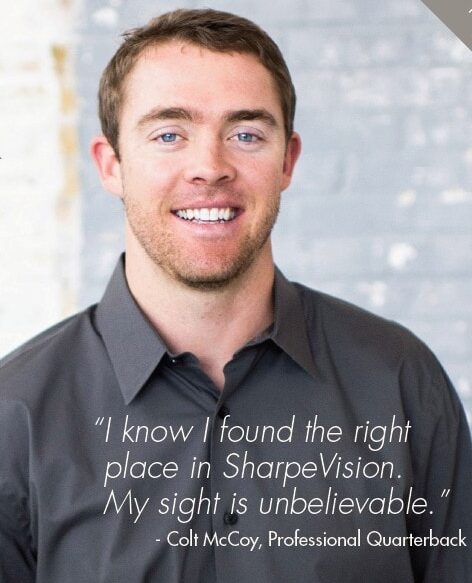 Modern Vision Correction
Goodbye glasses! SharpeVision is bringing custom all-laser LASIK, PRK & EVO ICL paired with the most modern technology and techniques to everyone. Improve your vision & your life with less risk, less expense, & in less time than ever before. Welcome to the future of vision.
Our Procedures Include:
Custom All-Laser Vision Correction
Custom All-Laser Vision Correction for Thin Corneas
Most Advanced Implantable Contact Lens technology with EVO
About LASIK
Modern Vision Correction
This is not your parents' vision correction surgery: RLE is getting rid of those pesky "readers" now and you won't need Cataract surgery later, and laser-assisted cataract extraction with custom multifocal intra-ocular lenses (IOL) make it so there are no needles, no blades, & potentially NO glasses afterward.
Our Procedures Include:
Laser Vision Correction Procedure with Custom Lens Replacement
Laser Distance and Near Vision Restoration
Laser Vision Restoration Procedure with Custom Lens Replacement
About Refractive Lens Exchange
believing is seeing
THREE VISION MILESTONES
As adults, our eyes predictably undergo three major milestones. At SharpeVision, we have vision correction solutions for each of these milestones regardless of your age or glasses prescription.
Goodbye Glasses, Hello Lasers!
Milestone 01: Ocular Maturity (Ages 18-45)
In Milestone 01, our glasses prescription stabilizes, and the lenses of our eyes are still flexible. We heal quickly and vision correction results can be enjoyed for a long time, thus young adulthood is the perfect time to have laser vision correction.The most common procedures recommended for this age range are LASIK, PRK and EVO ICL.
Meet Middle Age. Got Readers?
Milestone 02: Dysfunctional Lens (Ages 45-60)
As we age, we lose flexibility in the natural lens of our eye. This is called Presbyopia, or Dysfunctional Lens Syndrome. This happens to everyone around their mid 40s, regardless of previous vision correction surgery. You will eventually need glasses for near vision, distance vision, or both. The most common procedures recommended for this Milestone are RLE and Monovision, although in some cases, LASIK, PRK, and EVO ICL may also be appropriate.
Good Night Fog, Good Day Sunshine!
Milestone 03: Cataract Development (Ages 60+)
When we reach our 60s and older, the lenses of our eyes become less clear. The loss of clarity is called a Cataract, and it progresses slowly. You may first start to notice difficulty driving at night. At this vision Milestone, Cataract surgery is recommended to remove the cloudy, inflexible lens and replace it with a clear, custom lens (IOL). *Good to know: Cataract surgery is the same as RLE surgery, the only difference is that your lens is cloudy at this point, so your insurance may cover a portion of the cost.
lasik surgery center
The SharpeVision Difference
When considering eye surgery, the LASIK provider you end up going with can make a big difference in the types of outcomes you can expect. At SharpeVision MODERN LASIK & LENS, we have put together a team of specialists that can give you peace of mind & the confidence that the procedure will go smoothly and that you will get the best possible result.
We use the newest technology available, which helps minimize risks, increase the number of people who can have the procedure, & make it more affordable for our patients. At SharpeVision, we only perform all-laser LASIK and vision correction procedures which increases safety & makes for a faster procedure-both critical factors for success.
What is a LASIK Vision Center?

LASIK is a type of refractive eye surgery, which can correct nearsightedness, farsightedness, & astigmatism. Extremely safe and fast, the procedure requires complex technology & experienced refractive surgeons, which is why it is usually performed in a LASIK vision center, such as SharpeVision MODERN LASIK.

The main reasons why so many people choose to get their surgery in a LASIK vision correction center is experience and convenience. When getting LASIK eye care in a specialized facility, you ensure a consistent and reliable process and results with minimal downtime after the procedure.

90% of people can have LASIK

For many people, the ability to forgo wearing glasses or contact lenses, or at least significantly improving their eyesight, is a proposition too good to pass up. In fact, hundreds of thousands of patients turn to LASIK eye doctors for help to improve their vision and quality of life.

Over 90% of people are suitable candidates for LASIK, especially in clinics like SharpeVision, where the extremely precise femtosecond laser allows for a faster, safer, & more comfortable creation of the flap. And for those who are not a good candidate for LASIK, there is PRK, which is just like LASIK but without the flap.

More than just LASIK

How to know if LASIK is right for you: Our doctors will guide you through a vision correction consultation including a thorough eye exam using equipment specific to refractive surgery, providing you with an accurate assessment of your vision and anatomy and surgery recommendations for your best path forward. 

For those not eligible for LASIK or PRK, we offer advanced procedures such as EVO ICL (implantable contact lens) and RLE (refractive lens exchange).

And in our Seattle- Bellevue location, we can help you stay on top of your eye health by protecting your vision for the rest of your life using new dry eye technology to treat issues effectively.
Testimonials
My experience with LASIK at SharpeVision couldn't have been better! The staff were so kind and constantly made sure I felt comfortable and all my questions were answered. Thanks for my new eyes!
William S — Chicago
If you are considering LASIK, I highly recommend SharpeVision Modern LASIK, it's the best decision I've ever made!
Sam — Chicago
The whole process from the consultation to the post-operation appointment have been smooth and helpful. The office is welcoming, warm and an overall great environment.
Paulina — Chicago
The whole process was smooth and efficient and pleasant from the first call to the check up a month after the procedure. Love the lifetime guarantee as well.
Laura — Austin
SharpeVision provided me the best once-of-a-lifetime experience. Their staff is super friendly and I never once felt unwelcome. I totally recommend these guys.
Jonah — Austin
I highly recommend SharpeVision to anyone sick of glasses and contacts.
Jon — Chicago
From start to finish SharpeVision was professional, kind, informative, and beyond expectations. The staff is amazing and the doctors are incredibly knowledgeable.
Jillian — Austin
Everyone on staff is so helpful and professional and kind. I would recommend SharpeVision to anyone I know.
James V — Chicago
I literally said to Dr. Lancaster "That was it? THAT WAS IT?" I could see immediately after, and now I'm seeing better than 20/20.
Doug O — Chicago
Had a wonderful experience here for LASIK! Will be highly recommending it to all friends and family who are considering! Dr. Lancaster was phenomenal!
Conrad S — Austin
Candidate Quiz
Are you a LASIK Candidate?
The majority of people who fall into Milestone 01 are good candidates for the LASIK surgery procedure. However, there are some conditions that exclude certain patients. Take our quiz to see if LASIK is right for you, and if it's not, what procedure is!
LASIK VISION CENTER
MODERN Vision Correction: WHAT TO EXPECT
Vision Correction Exam & Consultation
A comprehensive vision correction examination is the only way to know which vision-correction procedure is best for you. We do this at no charge at our laser eye clinic because we believe so strongly in giving patients all the information necessary to make the right treatment choice. We will only recommend a procedure that is medically appropriate for your unique eyes, and sometimes there are more than one option.
While your exam involves complex diagnostic testing, it is also our opportunity to learn more about you, your expectations, & your lifestyle. All of these factors play an important role in recommending the best procedure for you. Your visit will also include dilation of your pupils which will affect your eyesight for about 4-6 hours, as you may have experienced with a routine eye exam.
The complete consultation and exam can take up to 90 minutes. After all your data is first collected by your technician in our specialized diagnostic rooms, the doctor will continue with a full eye exam and consultation in a private room, discuss your procedure recommendation(s), & answer any questions you may have. You may also have family or friends join you during your consultation. Questions concerning pricing, insurance, and, if you choose to proceed with a procedure, scheduling and pre-op instructions will also be discussed, all in the comfort of your private room.
Before Your Procedure
We'd like you to leave your contacts out prior to your treatment. When you arrive the day of your procedure, and after carefully reading through the entirety of the literature you will receive from your doctor, you will sign a copy of the informed consent in our office. You will receive a Recovery Kit with everything you need to heal after your surgery, including comfort drops, antibiotic drops & steroid drops, saving you a trip to the pharmacy. We will explain & give you written instructions for your post-procedure care, which includes instructions for using these eye drops. We will provide you with a cool compress for your ride home, but its also a good idea to have one waiting for you in your refrigerator. It will feel great on your eyelids after your procedure.
Your Procedure
We understand that this procedure may create nervousness & fear. It's your eyes! So we've worked very hard to make it easy for you. We offer an oral sedative to help you relax, & we encourage you to take it if medically appropriate. In our Austin location, we offer wine or beer in lieu of the sedative, if you prefer. We want your experience to be as comfortable as possible.
All of your post-operative appointments will be scheduled before your procedure, so you can simply go home when the procedure is complete. Your surgeon will gently talk you through each step of the process, so you'll know what you will feel, see, & hear. Your surgeon also monitors your eye through the microscope at all times. The entire procedure takes about three minutes per eye; the first laser takes 20 seconds & the second laser takes between 10-50 seconds, depending on the amount of your prescription.
Post-Procedure
Immediately following the procedure, you will notice a change in your vision. It's always foggy at first, but most people can see well enough to read a clock from across the room. Your eyes will be numb for 15-25 minutes, then they will start to water & burn. After LASIK, this discomfort usually lasts 4-5 hours. To help with the burning, we supply you with comfort drops in the Recovery Kit that have a numbing medicine & artificial tears in them. After you arrive home, place a cool compress on your eyelids to relieve any discomfort. Try to sleep or rest with your eyes closed. You may resume normal activities the same or following day. You can lift weights & exercise, but do not rub your eyes. Your vision may still be blurry; this is a normal part of your healing process and will clear in the days and weeks following the procedure. Most people see well enough to work the next day.
Lasik Alternatives
What If I'm not a good LASIK Candidate?
If you happen to fall into that small percentage of patients for whom LASIK is not the best option, there is still hope for great vision! You can still get rid of your glasses and contacts with other advanced laser vision correction techniques. Vision correction for all!
lasik eye care
LASIK Myths
Over the years, we've heard many myths about vision correction. Let's set the record straight and answer other common LASIK questions.
Myth 001
Lasers cannot correct astigmatism.
It's hard to believe we've been able to treat astigmatism since 1998 & we've been treating it with improved lasers ever since. When you have moderate to severe astigmatism, laser vision correction is an extremely appealing option, because toric (astigmatism correcting) contact lenses are thicker, more expensive, less comfortable & give more variable vision than ordinary contacts.
Myth 002
LASIK made me need reading glasses.
At Milestone 02 (ages 45+), a moving part inside our eye, called the crystalline lens, becomes less flexible due to natural aging. This causes everyone to lose vision up-close, at distance, or both, no matter if you've had LASIK or not. Although no current technology can restore this flexibility of youth, we can avoid reading glasses with a procedure called Monovision that corrects one eye for near and the other for distance with a laser just like LASIK or PRK. During your consultation, we can demonstrate this option for our patients over 45. The other option is RLE, which replaces the inflexible lens with a new custom lens that restores your vision, and you won't need Cataract surgery later!
Myth 003
The laser will mess up if I move
Our lasers have an amazingly fast infrared tracker that keeps the laser perfectly centered on your eye. It follows even the microscopic movements of your eye during the procedure, so if your eye moves even a little, the laser moves with it. Large movements of the eye cause the tracker to stop the laser completely until the eye is back into position.
LASIK eye doctors
World-Class Vision Specialists
One of the top LASIK surgeons in the world, Dr. Sharpe opened SHARPEVISION MODERN LASIK & LENS—  transformative laser vision correction boutiques — to bring top refractive surgeons & the best results to everyone, all for the best price.
About SharpeVision
eye'm with sharpe
Our Clients Are Our Vision Statement
Because anyone can be affected by poor vision, we get to help people from all walks of life & hear some amazing stories along the way.
Official Lasik Provider
Trusted by the Best
Our surgeons have had the privilege of treating a wide range of professional athletes, coaches, & trainers. We are honored to partner with & support our local teams, & honored that the players & staff trust us with their vision.
Free Consultation
Goodbye Glasses
Insights About Your Eyesight