I'm so excited for you and glad to help you in your LASIK journey. There are many things to consider when preparing for LASIK eye surgery. Almost everyone has some anxiety and nervousness about the preparation for LASIK, the laser vision correction surgery itself, and the immediate and longer-term post-operative period. In this blog post, I hope to allay some of your fears so that you can be excited and confident about your laser vision correction procedure.
In this blog post I will be discussing only LASIK surgery. I will discuss the expectations before, during, and after PRK in a separate blog post.
The basic time periods are:
Before LASIK eye surgery: all the things that you can do to prepare yourself for an optimal result.
LASIK day of surgery: all the things that you may expect on the day of your surgery. Everything should be explained beforehand.
Immediate postoperative period: the first 24 hours after your vision correction procedure
Longer-term postoperative period: from 24 hours to the first month postoperatively, then after the first month and beyond.
Before Lasik Eye Surgery
There are some very specific, as well as general, things you can do to improve the possibility of an excellent outcome for your laser vision correction surgery. The first is to do some research both before you go see a laser vision correction specialist for a consultation as well as after your consultation to follow up on questions you may have.
The first thing I would do is check all the providers in your area and get as much information about them as you can. The things that I think are most important is the number of procedures they do, how long have they been doing LASIK, what is their training, and how are their reviews? Do they have a lot of bad reviews, and if so, how do they reply to them? This will give you some insight as to how they treat their patients.
The specifics of the complaints I have found generally fall into a couple categories: one is wait time. Waiting an unnecessarily long time at the office to see your vision correction provider is not necessarily an indicator that your outcome will be less than great, but it certainly is annoying and frustrating if the practice does not value your time. At SharpeVision, we are not immune to an occasional patient who has had to wait too long to see us. We are devastated by bad reviews, and this is one that should always be avoidable through good communication internally in the practice, good scheduling and adequate resources to handle the patients that we do schedule.
The second most common complaint is someone being rude in the practice. This is also completely avoidable and reflects so poorly on the practice, in my opinion. At SharpeVision, we also treat our employees very well, train them and support them, so that they are happy being a part of this awesome process. We treat our patients like the treasures that they are! We are so privileged and honored that they have chosen to see us.
The third category of complaint is poor outcome. While no laser vision correction surgeon can operate with zero complications or complaints, complaints about the outcome may have several aspects to them: one is a lack of communication from the practice to the patient. If a patient gets a result that they were not expecting, this is likely due to a lack of good communication. At SharpeVision, one of our core values is excellence in communication, both with patients and with each other on our team. We do everything we can to ensure excellent preoperative communication with the patient, so that they know all of the risks, alternatives and potential issues, as well as what is expected in a normal timeline for the procedure and recovery. This is also why I am doing this blog post!
The most common early complaints about LASIK are 1). glare and halos and 2). dryness. Dryness affects almost everyone who has had laser vision correction to some degree or another. We have found that increased age and female gender are the most common variables that negatively affect the dryness. Women definitely have more dryness than men, and people in their 40s and 50s have more dryness than those in their 20s and 30s. In fact, I don't recall ever having someone with severe dryness in their 20s, except for perhaps someone who had been on Accutane medicine for cystic acne. There is another condition called lagophthalmos where the eyelids do not close completely when someone is sleeping. Often a spouse or partner will tell the patient that their eyes don't close fully when they sleep. This will tend to make your eyes dryer after LASIK or PRK surgery. There are also many other reasons that require their own discussion.
After you have chosen one or two practices to visit to get your free comprehensive consultation (some practices charge a fee for the exam and then deduct it from the cost of your surgery, but at SharpeVision we don't charge for that initial evaluation) you will have an excellent idea of not only what procedure may be the most likely to get you the excellent results you want, but also where you would like to have your procedure done. At SharpeVision, we offer the whole spectrum of refractive surgery procedures including LASIK, PRK, Refractive Lens Exchange (RLE), Implantable Contact Lens (ICL), and Cataract Surgery (IOL) (laser-assisted and multifocal lenses). This allows us to tailor and recommend the procedure that will best suit your needs.
You should also establish communication with the practice to support you throughout the process. I always give out my number pre- and post-operatively to patients via a text asking how they are doing and to let me know if they have any problems. I send many texts that quickly answer the patient's concerns and alleviate their anxiety over whatever they are experiencing at the time. This avoids fears and keeps the office visits to those that are needed rather than coming in and spending your day just to find out something that you could have learned through a quick text to me.
The practice should also give you an exact quote for the expense of the surgery and how it can be paid (personal checks and cash are often not accepted by the practice).
Financing may be available, which is also a part of the cost. The term of the loan, interest rate, and default provisions should also be carefully examined. We at Sharpevision offer Alphaeon and Care Credit, as well as in-house financing for those that do not qualify for outside financing. We want everyone who wants laser vision correction to be able to have the surgery!
Wearing Contacts Before LASIK
Different practices have different requirements for being out of your contact lenses before LASIK eye surgery. This is a somewhat controversial subject and my thoughts are as follows:
Rigid gas permeable contact lenses: RGP lenses should definitely be out prior to the surgery but do not have to be out prior to the consultation. My thinking is that if you are a candidate for laser vision correction or some other procedure, we will know this without you having to go through the inconvenience of wearing your thick glasses for weeks and weeks prior to the consultation. RGP or gas permeable lenses definitely can change the shape of your cornea which is extremely important to know prior to your procedure. However, at the consultation we can determine how nearsighted you are (although astigmatism can significantly change by being out of gas permeable contact lenses), as well the anatomy and health of your eyes, your age, and what procedure may best suit you. After the consultation and determining that you are a candidate, we will reschedule a follow up visit three weeks after you have been out of your RGP lenses. We will then again very carefully measure your prescription. At that time, we will schedule your surgery for at least two weeks after, at which time we will recheck your prescription again very carefully on the day of your surgery. Typically at this point, after having been out of your gas permeable contact lenses for five weeks, we can confidently and safely perform your LASIK.
Soft or soft toric contacts: recommendations very widely from one practice to another about how long you should be out of your contacts. At SharpeVision, we want you to just come in and get your exam first and then worry about contact lenses later. This way we can determine if you are a candidate, answer all questions, discuss risks and benefits, show you the pricing, financing, and make sure that you are completely informed about the procedure and ready to go. Then we will have you out of your contact lenses, check the prescription very carefully on the day of your procedure and then go forward. Don't worry if you do not have glasses! We can direct you to a website (zennioptical.com) and give you your prescription to get very inexpensive (under$20) temporary glasses, if needed. It has been my experience that your prescription does not change very much from being out of your contacts with soft or soft toric (astigmatism collecting) contact lenses from the time you are wearing them to the time we recheck your prescription. We recommend being out of your contact lenses whether they are spherical or toric for three days prior to the procedure. Some people opt to do more than this, which does not seem to matter in general. There are two exceptions to this and that is if someone has contact lens overwear syndrome, or giant papillary conjunctivitis. These are both contact lens related problems that irritate the surface of your eyes and/or eyelids that can make your vision blurry, even with glasses. This can take up to 6-8 weeks to resolve. It takes a long time to get there and a long time to get better. Depending on your condition, we may refer you to an ocular surface specialist for ocular surface rehabilitation prior to LASIK.
Lasik Day of Surgery
On the day of your surgery, you will likely be nervous or tired from not having slept the night before and have some anxiety. This is totally normal and expected.
Here are some general things that we do at SharpeVision that I think will help you be more confident and allay some of your anxiety.
It certainly doesn't hurt if you haven't slept well the night before. The best thing to do after your procedure is go home and take a nap, and this will be easier if you are somewhat sleepy to begin with.
When you check in, we will take payment, have you sign the consent form, and go over all the instructions with you for things to do. You will have my phone number and our office phone number to call for questions. You can also text me!
We will very carefully re-check your glasses prescription. We always do this on the day of the exam without putting any drops in your eyes. This accomplishes several things including another measurement (more data is better!), a measurement on a different day, and a measurement taken without the effect of the dilating or other drops, so that we get a very natural reading.
We will then give you Valium which will help you to relax. It is generally like having an alcoholic beverage or two. Different people feel different amounts of this medication, and we can give you more if you feel like you need it. It is generally very well tolerated without any hangover or negative side effects, and it can be taken with virtually any other medication (for this brief period of time only, but if you take benzodiazepines chronically you have to discuss with your primary care physician).
I always come into the exam room and discuss the procedure, expectations, and what you will experience in the laser room.
Overall, LASIK surgery time of the procedure is typically six or seven minutes (that is for both eyes or an average of three minutes per eye)
I will talk to you through every step of your procedure, so that you are not startled. Don't worry, I won't tell you all the tiny details, just what you will feel, see, hear, and smell.
What is LASIK Like?
First you will receive multiple doses of numbing drops, so that the surface of your eye is completely numb while we are performing the procedure.
You will feel and see a red solid light that will start to come closer, then you'll feel pressure that is equivalent to a thumb lightly pressing on your eyeball.
At this point, your vision will black out for 20 to 30 seconds. I will count this down and tell you this as it is happening. We just sit and wait for those 20 to 30 seconds. You won't feel the laser and there will be no movement
That is the first laser!
For the second laser, we will swivel the chair over to your right. You will not feel the second laser, but you will hear it as a "zap zap zap" sound as you are staring at a green flashing light. The laser itself typically lasts 7 to 60 seconds depending on your prescription. For your reference, a -4 prescription takes approximately 30 seconds.
You will smell the vapor. It is not burning! It is more like dust in the air that you will smell. There is a vacuum to remove the dust, but you will still smell it. Don't worry! This is totally normal!
How Long does Laser Eye Surgery Take?
I think this question can best be answered in parts. We generally can complete the entire process in under 90 minutes. For the purpose of your transportation, you can generally have your ride return about 90 minutes from your appointment time. Your transportation person can stay in the parking lot if they'd like, go for a coffee, or come into the office to observe.
The second part of this is how long the actual LASIK surgery time takes. Typically, this is about 6 to 8 minutes for both eyes or 3-4 minutes per eye. The variability is due to someone's ease in getting the procedure (people with more anxiety generally take a little bit longer to gently get them through the surgery). There is also the time of the laser itself, which varies depending on your prescription. It's generally about 7.5 seconds per diopter, so if you have a minus (-) for prescription, the second laser (the one that shapes the curvature of your eye) takes about 30 seconds.
The first laser (the one that makes the flap) is the same time for everybody and is about 15 to 20 seconds where you cannot see. This can be very anxiety provoking but is totally normal. I will tell you when it is going to happen and for exactly how long, so that you were not startled. I hope that helps!
What to Expect After LASIK
Immediately after LASIK eye surgery, I take my patient to the slit lamp and observe and make sure everything looks OK. Then I personally go over some instructions:
The numbing drops that we use will wear off in about 15 minutes. At that time, your eyes will start to burn and water. This burning typically lasts 4 to 5 hours for LASIK.
I recommend going immediately home. Do not stop to get food or anything else. Your eyes will be watering, and you will want to get to the comfort of your home as soon as possible.
If you need something from the pharmacy, have your ride drop you off at home and then they can go back and get whatever you need. I recommend getting anything you need prior to the procedure. One thing that is nice to have when you get home is a cool compresses. I generally recommend using the soft gel bags that you can find in pharmacies or the SharpeVision compress supplied in your swag bag. Put it in the refrigerator rather than the freezer, so they are not too cold. The cold compresses can be applied as long as you are comfortable. Generally, that is "a few minutes on your eyes and a few minutes off." Hopefully you will fall asleep at this time and wake up later with comfortable eyes. The burning and irritation typically lasts about four hours
In your recovery kit are "comfort drops." These drops are half numbing medicine and half artificial tears. The combination will allow you to continue to feel the comfort that you did immediately following the procedure. You can self administer the comfort drops every minute or two until you are comfortable. Often the drops do not work after one administration. This is due to the fact that your eyes will be watering and you will be squeezing them out, which makes it difficult to get the numbing medicine to where it needs to be: on the surface of your eye to help numb it. Feel free to use these drops as much as you need. They last approximately 15 minutes, but you can use them as much as you want. You will only need them for about four hours, so if you run out after four hours, this is just fine.
Sleep aids: you may take any sleep aid you desire. Often our patients will take Advil p.m. or Tylenol p.m. Some have taken melatonin or Ambien by prescription from their primary care doctor. Any of these is good to help you to get to sleep. If you sleep more than four or five hours, you will wake up feeling fairly comfortable after LASIK surgery.
Take note: these recommendations are for LASIK only. PRK is completely different and will be treated in a separate blog post
After you wake up from your nap, your vision will still be foggy, but less than it is immediately postoperatively.
The following morning, your vision will still be foggy, but usually 3/4 of the fogginess is gone within 24 hours.
On the day one postoperative visit, it is very important that we see you! We want to carefully check your eyes to make sure the flap is where it should be, you have all your questions answered, and that there is no inflammation or undue swelling of your eyes. The most frequently measured vision on the first post-op day is 20/20! Almost always your vision will be 20/40 or better within 24 hours. This is good enough to pass a drivers test! Even if your vision is 20/20, which is true for about 2/3 of our patients on post-operative day one, it will still get better in terms of the fogginess, glare, haloes and loss of contrast sensitivity or "washed out appearance" of things around you. This is totally normal and will get tons better in the first couple of days, and a little better for 6-8 weeks.
Continue using the medicated drops as directed: this is usually four times a day for one week after your LASIK procedure. We typically give a combination drop of a steroid (prednisolone acetate) and moxifloxacin (a good broad spectrum antibiotic). If you run out you can give me a text at 206-495-2010.
The Longer-Term Postoperative Period
Your vision will continue to improve for weeks to months following LASIK. Most of the improvement is in the first day or two, but it definitely can improve for several months. The surface of your eyes will tend to dry out more easily in the first month or more following your LASIK procedure. This is the reason why your vision can fluctuate and improve as the surface of your eyes returns to normal.
There are basically two reasons that account for almost all blurriness following LASIK. The first is dryness. Almost everyone will experience some level of dryness that can make your vision foggy. The most common time of day for dryness is early in the morning when you wake up. I recommend hydrating yourself well, putting artificial tears in as much as you need and continue to use the medicated drops through the first seven days. Text me if you have any questions!
The other reason for blurriness in the first month is if we slightly missed the goal with the laser. It is possible that your vision will still be slightly blurry (less clear than it would have been preoperatively with your glasses or contact lenses). If this is the case, we typically discover this at the one-month post-operative visit. Additional laser is required overall in about 2% of our patients. This is less likely in young people and/or those with a low prescription. We typically wait at least 3 months to consider doing more LASIK, if needed. You must also take into account that you will need reading glasses typically after age 45. This is discussed elsewhere in these blog posts, but definitely ask your doctor about it. It's not an immediate concern if you are under 45 years of age.
LASIK Before and After
This blog post has hopefully helped you to be confident about your decision to undergo laser vision correction. We love what we do at SharpeVision and are honored and privileged to do this for you. It is important that you have all your questions answered, and go into this knowing that we cannot make any guarantees about your outcome. However, I have done over 80,000 vision correction procedures. LASIK (about 70,000+), PRK (about 10,000), ICL (about 500). It helps to know as much as you can!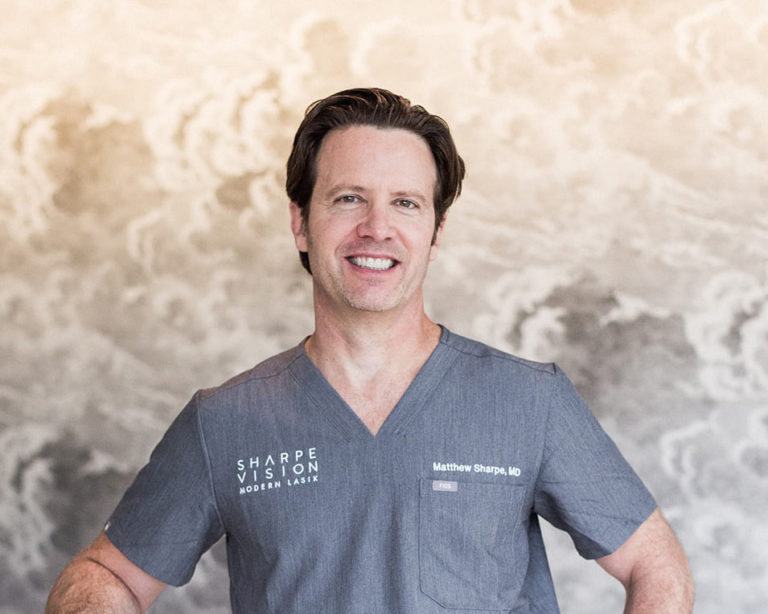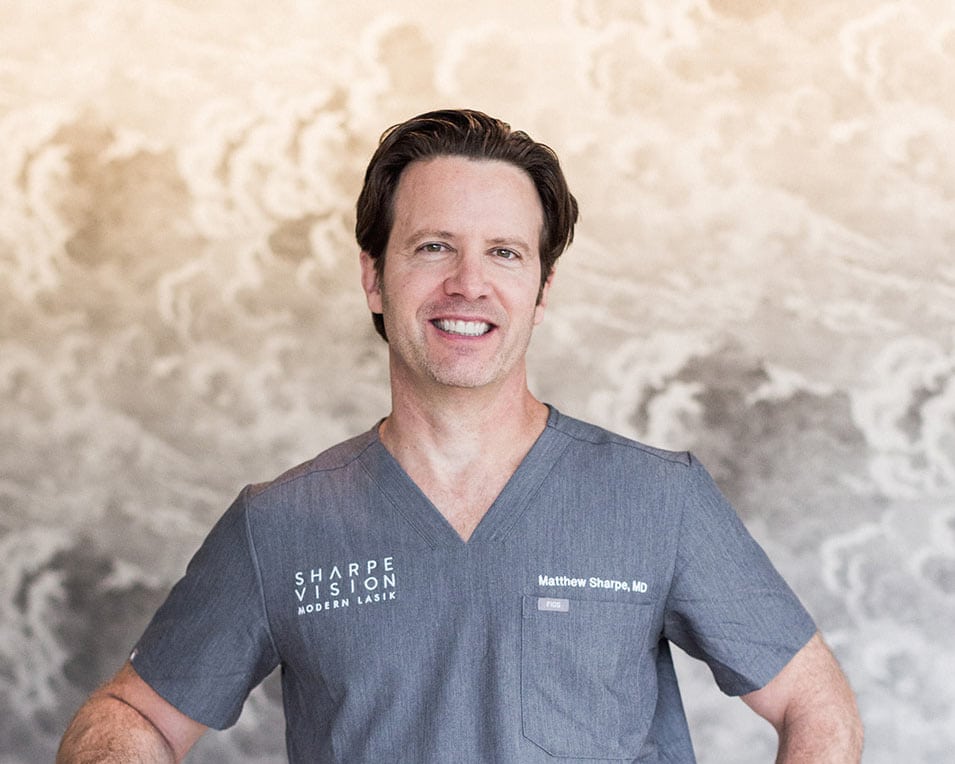 Dr. Matthew R. Sharpe
Dr. Matthew Sharpe is an Ophthalmologist specializing in refractive surgery and the owner SharpeVision MODERN LASIK, with offices in Seattle, Austin, and Chicago. Dr. Sharpe is a world traveler, pianist, marathon runner, motorcyclist, and fluent French speaker. He enjoys every second of life, but finds he is happiest at home watching Netflix or cheering on The Ohio State Buckeyes with his wife, three children, and two dogs.