I Want to Get LASIK. What is the Best LASIK Vision Center for Me?
LASIK has been performed for over 25 years now, and many millions of people worldwide are enjoying clear uncorrected vision that would not have been possible a generation ago. Since the beginning of LASIK and PRK in the 1990's, thousands of doctors have performed LASIK on millions of patients. Social media and search engines make more information about laser vision correction available than ever before.
However, if you're researching LASIK eye doctors, or a LASIK company, the sheer volume of information can be overwhelming. You may find contradictory statements, old myths about laser vision correction and maybe misleading information. My recommendation is to go to someone who has done a TON of LASIK surgery, and who rates positively in the bullets below. I have been doing LASIK and PRK, since 1998, and have treated over 80,000 eyes to date. I've seen it all, done it all. I'm not just spouting the party line. You'll hear the good, the bad, straight from experience more than from any textbook (because there weren't any texts on it when I started, and there are few today. They also become outdated pretty quickly). The good new is LASIK Vision correction is overwhelmingly good, but you need to be fully informed. I'm here to help.
Who does LASIK?
LASIK surgery is only done by ophthalmologists, not by optometrists. An ophthalmologist is an MD (Medical Doctor) who has gone to four years of medical school. They then do three or more years of eye surgery training during an accredited ophthalmology residency program. Residents rarely perform LASIK, however, and there are few fellowships that train them. I have been one of the fortunate to have learned LASIK vision correction surgery when it was first approved in the United States, and have now done over 80,000 LASIK and PRK surgeries. My partner in Austin and Chicago, Dr. Nick Lancaster also is fortunate to have performed thousands of LASIK surgeries while an army officer at Ft. Hood Texas. He has more experience than almost any civilian LASIK provider.
Aren't all LASIK vision centers the same?
Each Laser Eye Clinic has its unique character, and each of the relatively few LASIK eye doctors has their own beliefs. At SharpeVision, we have as much or more experience to base our recommendations on as anyone in the world. I have carefully developed our treatment parameters, which are extremely conservative, while allowing over 90% candidacy. We also offer every procedure from LASIK, PRK, ICL, IOL, RLE, so that we can tailor it to your exact needs, rather than doing LASIK on everyone simply because that's all we have. We also are a surgeon owned LASIK provider. No shareholders, no quarterly earnings reports, no mandate to reduce expenses as much as possible to increase earnings, no recommending LASIK or PRK to someone who's not a candidate. We are privileged and honored to do what we do. We change lives for the better every day.
Start your education by learning as much as you can about laser vision correction from trusted sources. Look into the different procedures, how they work, and the potential benefits and risks, pros and cons of each. The more facts that you gather at this stage, the more informed and comfortable you'll feel later in your journey as you visit a soon correction center. The following sites offer good general overviews of the LASIK, but not specifics.
After lots of online research, the time then comes to research LASIK Providers or a specific laser vision correction center. Most do free consultations. I believe these questions are important. Hopefully you can get a lot of this from their website.
How many LASIK surgeries has your surgeon done? I don't know that it makes much difference between 50,000 procedures performed and 100,000, but I do believe more is better if you're constantly trying to improve, are good at it, take stock of what could be better, smoother, and easier for patients. I do believe I continue to improve. If I wasn't always striving for better, I should hang it up. I love what I do, and love seeing what we could do better and then doing it.
How long have they been doing LASIK? This is also important in my opinion. I've used every technology, every blade, laser, instrument and technique from EPILASIK (basically PRK), to Sub-Bowman's Keratomileusis (basically thinner flap LASIK) since I began in 1998, and have learned. It's improved my instincts for what's been tried, and what might work in the future. I'm adamant that we make every move count, that our system for ensuring accuracy is followed exactly and without fail.
What was their training? I believe there's no substitute for excellent education. Undergrad, medical school and residency, as well as continuing education, which I engage in daily. They each teach you to think, to question, and allows better judgement from a larger fund of knowledge and experience. Expert clinicians in internal medicine and surgery from med school still influence me today in my work ethic and how I practice.
What professional organizations do they participate in, not just join? My understanding and experience has grown enormously over the past five years, as I connect with colleagues who have dedicated their lives to refractive surgery. The RSA (Refractive Surgery Alliance) https://www.refractivealliance.com I discuss issues, complications, management, technology and learn from over three hundred refractive surgeons worldwide. Truly essential education for me. I'm also a fellow in the American Academy of Ophthalmology, a larger more general organization of eye surgeons.
Do they offer all the procedures? Not everyone is a candidate for laser vision correction, but fortunately by having multiple excellent choices, almost everyone at any age, and any prescription can benefit from vision correction surgery.
Are the procedures time tested? There have been a couple procedures during my career that I stayed away from, because I didn't trust (LTK, CTK, Kamra, Raindrop) and was glad, as they either didn't work or had some risk profile that wasn't acceptable to me. LASIK, PRK,ICL, and certainly cataract surgery (over 4 million annually in the US) are as time tested as anything. The risks are low, and well known, and therefore more manageable.
Do they spend all the time needed to help you become fully informed? You should learn more from your consultation than from other source, so it's important that you soak up as much knowledge as you can during this visit. They will discuss you, your needs, your eye health, your anatomy (corneal shape, thickness, symmetry and space for an ICL if applicable)
What tech do they use? At this point, most excimer lasers are pretty similar. There are really only about three LASIK Laser companies: Nidek, Alcon, and Visx. There are also about three laser brands to make the flap, all of which are excellent. There have been other excimer lasers that aren't really used any longer: Bausch and Lomb, Lasersite, Summit, and LadarVision.
Does the surgeon own the practice? I believe that a surgeon owner is more invested than if he/she is paid on a per-eye basis. At SharpeVision, we own the practice. We could not be more invested or care any more. I hope and think it shows in your experience with us.
How is their communication? One of our core values is excellence in communication. I believe that's vital. In my experience, unhappy patients are almost always a result of expectations that are out of alignment with what they can expect. If that's the case, it's almost always poor communication or poor understanding. One example is when/if someone doesn't understand presbyopia, that anyone over about 45 years old can't have both clear distance and near vision in both eyes. If they don't understand this before their procedure, it's possible they will be unhappy with their need for reading glasses. At SharpeVision, we spend a lot of time discussing this, asking about current near blur, demonstrating it in the exam, discussing it on our informed consent video, on blog posts, and making absolutely sure they understand our eye's limitations
Was pricing honest, transparent and reasonable? We are one of the very few (maybe even the only practice) that list our prices on our website, and patients appreciate it. https://sharpe-vision.com/pricing/ I don't think we need to be ashamed of our price. We try, and I believe, deliver, an exceptional value. It's incredibly valuable to have great vision. Direct and indirect benefits are immediate and long lasting.
How does the center look? If a surgeon owns the office, and cares about every detail, the office will reflect that. I know it's hard to be perfect all the time, but at least he or she tries to make it look great.
How clean is the office? Details matter, and if the center isn't clean, what else isn't? At SharpeVision, we continuously clean, organize and sterilize surfaces, rooms, and go way beyond the usual Covid requirements
Were they organized? Was your exam performed on time, did they take all the time you needed, was the paperwork sensible, was the doctor pleasant and knowledgeable? We try so hard to live up to this. It's not easy, and we'll never be perfect, but we sure try.
Were they kind? There's no excuse for anything else.
Did you feel good when you were there, like you could trust them? Obviously it's important to feel good, confident, and trust someone who is about to perform this incredible procedure on you. If you don't feel it, keep looking.
Look at their good and bad reviews, and look at how or if they replied. I don't like bad reviews. It means we've failed somehow, and I take each one very personally, and review it with my team. I also take responsibility. I apologize, and appreciate the feedback. We've lost a few patients from being late, and not valuing their time. I know that it's an ongoing process and perfection is never achieved, but always strived for.
Your choice of a LASIK provider is an important one. We sincerely hope we are worthy of your trust and confidence, but more importantly that you have a great outcome no matter where you choose to have your LASIK, because it is so amazing. So get started, call us at 425-451-2020, or schedule online at sharpevision.com
May you enjoy a lifetime of clear uncorrected vision!

-Dr. Matthew Sharpe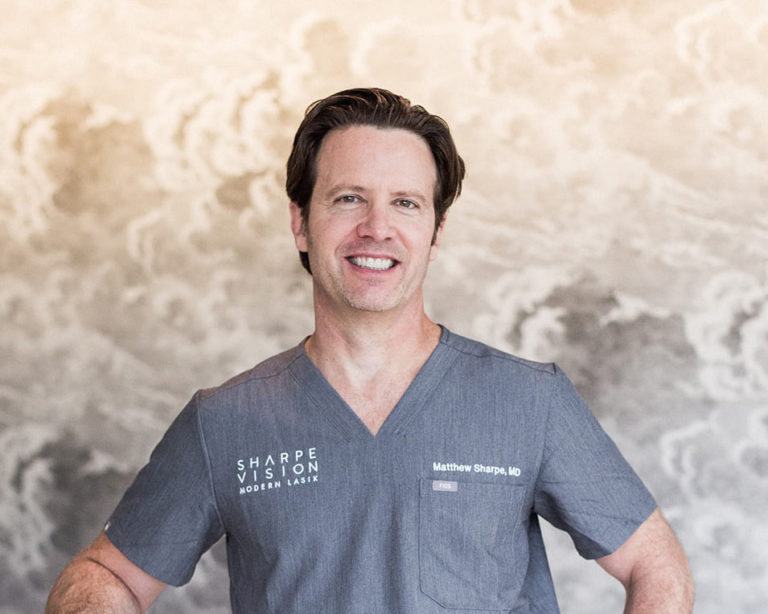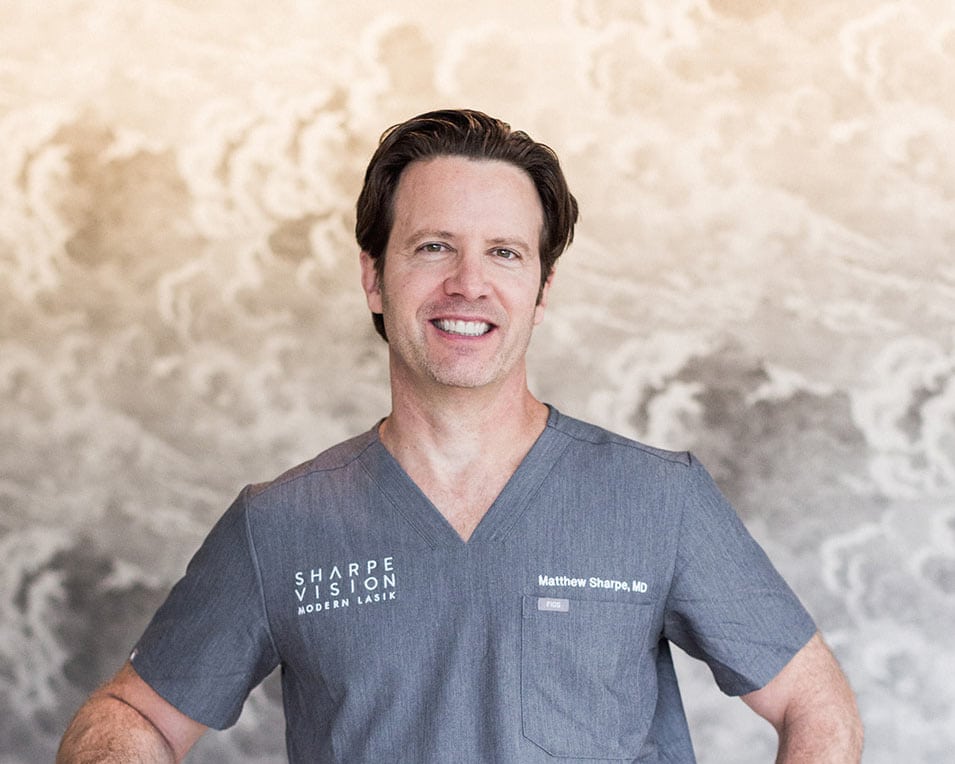 Dr. Matthew R. Sharpe
Dr. Matthew Sharpe is an Ophthalmologist specializing in refractive surgery and the owner SharpeVision MODERN LASIK, with offices in Seattle, Austin, and Chicago. Dr. Sharpe is a world traveler, pianist, marathon runner, motorcyclist, and fluent French speaker. He enjoys every second of life, but finds he is happiest at home watching Netflix or cheering on The Ohio State Buckeyes with his wife, three children, and two dogs.