How do you find the best LASIK surgeon? In this blog post, we will talk about how to search for the LASIK surgeon that is best for you. I certainly believe that the best surgeon is one who has lots of experience, but perhaps even more importantly, practices in an environment that allows him or her to focus entirely on the patient results and not the bottom line.
We at Sharpevision are in a special group of independent surgeon owned LASIK practices around the country who perform laser and other vision correction procedures and have a very special dedication to their patients.
The vast majority of surgeons in the Refractive Surgery Alliance (https://www.refractivealliance.com ) have performed surgery on multiple family members as well as having had it performed on their own eyes. I fit in this category because I had Lasik in 1998 and was highly nearsighted (-8-1 prescription in both eyes). I have performed it on my wife (PRK 2010), mother (PRK 1999), daughter (LASIK 2022), and son (EVO ICL 2022). They are all enjoying the benefit of being able to see clearly without glasses or contact lenses!
How to Find the Best LASIK Surgeon
I believe there are several components to finding the best LASIK surgeon. For most people, this will begin online.
First, I recommend doing a search of all the LASIK practices that are easy enough for you to get to for the exam, surgery, and postoperative visits.
Once you have found these practices, go to their websites and look at their professionalism and how much care they take in what they put online.
A next step would be scheduling at least two consultations. I believe it's important for the practice to make this initial consultation free of charge because it allows the patient to assess how they are treated and how comfortable they feel with their experience in the office.
When you are in the office:

Does the team seem to work together, communicate well, and make you feel valued?
The consultation should begin and end in a timely manner. I know this can be difficult, but should be doable. Every practice, however, sometimes gets behind due to things out of their control, such as a patient showing up late, or a staff member who is sick. You can allow some leeway on this. Hopefully it's not the norm.

Other components of your consultation that I believe are important:

Cleanliness! If their office isn't clean, how can you trust their surgery?
Attention to detail: there are so many details to your experience that it's hard to list them all here. One thing we do at SharpeVision that I think is very important is we take many measurements of your eyes, both on the day of the exam and on the day of the procedure. Each device we have takes multiple measurements. Typically, they will vary somewhat but will be stable in any adult.
Staff friendliness: if they are not friendly at the beginning, that's a big red flag. At SharpeVision our team loves what we do, and I value them tremendously.
Staff competency: We continuously train in both the technical aspects of what we do but also in the service aspect. We have core values of personal and professional growth, fanatical attention to detail, excellence in communication, we are our genuine and authentic selves, and most importantly: we are patient focused! Everything we do is to treat you like the treasured patient you are. The staff that is performing the diagnostic tests should have a good working knowledge of what it is they are measuring and why. We are lucky at SharpeVision to have a staff that has grown with us and stayed with us for quite some time.
Meet the doctor: at SharpeVision we have a team of optometrists who work closely with me as the surgeon. The same goes for Dr. Lancaster at our Chicago and Austin locations. The surgeon is in the clinic the vast majority of the time and is available to meet, discuss, and review any questions you may have. Our optometrists are highly experienced professionals and work closely with me. We discuss patients throughout the day and are constantly improving our process.
Communication of the risks and benefits, all of your questions answered, and pricing transparency. Be sure to know what is,and is not, included in the price. Some practices will include the medications, follow up, enhancements and future potential treatments.

It's also very important to know the experience of your surgeon. Does he or she have thousands or tens of thousands of treated eyes?
Another key element is to know exactly why they are recommending the procedure and what procedures they offer. If they only offer LASIK and PRK, they may be recommending one of those two procedures when in fact you may be a better candidate for EVO ICL, RLE (refractive lens exchange) or Cataract surgery.
My recommendation in any market is look first at the members of the RSA because these are the most experienced surgeons in the world. For the most part, they own their own practices and put patients first. They are incentivized by making their patients happy. Corporate providers, such as LASIK Plus, TLC, and LVI are all watching their bottom line first, then looking out for your best interests second.
Please come see us for your free comprehensive evaluation for LASIK in Austin, LASIK in Chicago, or LASIK in Seattle
Our surgeon, Dr. Nick Lancaster operates in our LASIK Austin and LASIK Chicago practices. He has done tens of thousands of procedures, is highly experienced, and highly regarded professionally. He is also a member of the Refractive Surgery Alliance. He has dedicated his career to helping people see clearly without glasses. I have done the same. It is an awesome privilege and pleasure to do what we do. We truly love our patients and put them first. There is simply no substitute for a surgeon who spends every waking moment caring for people in his or her practice.
I want to see you in our office because I want to help all people receive the beautiful miracle of vision correction surgery. I have dedicated my professional life to this calling. It's not a job for me but a mission to make glasses a thing of the past!
Hope I will see you soon. Scheduled your free comprehensive evaluation online!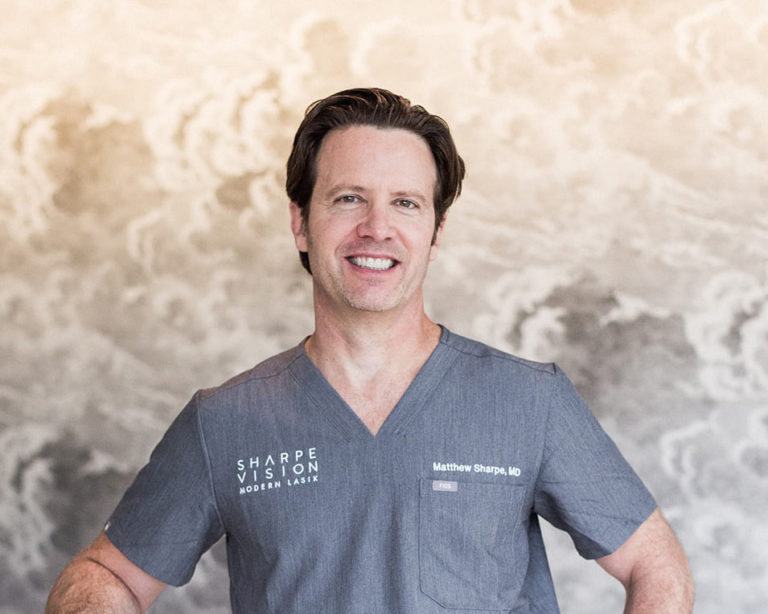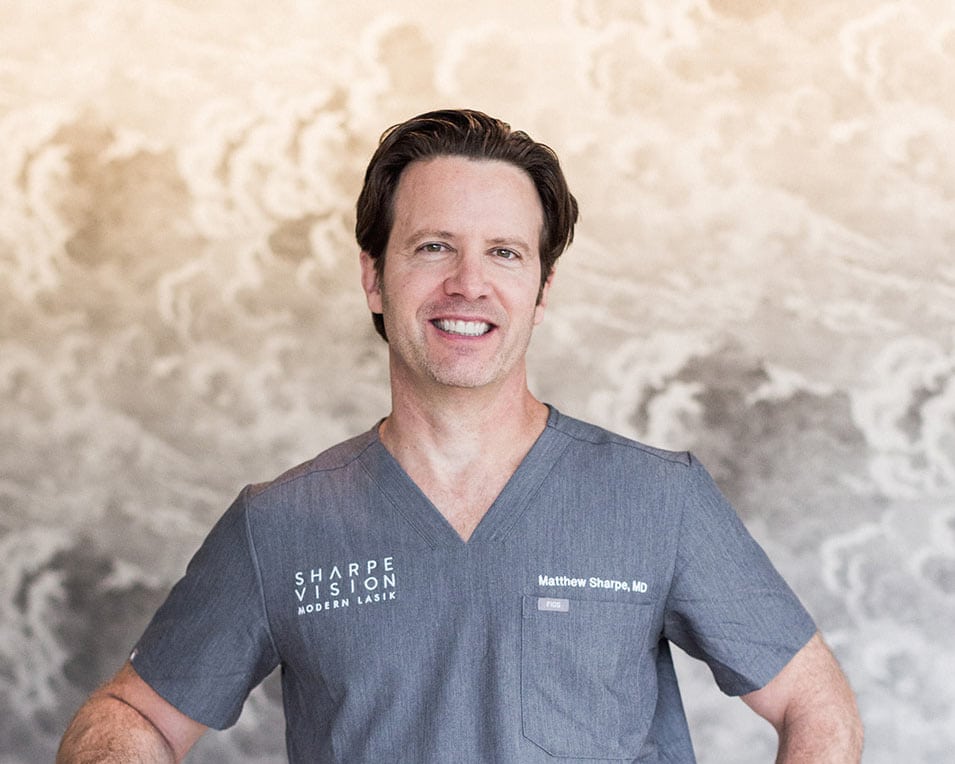 Dr. Matthew R. Sharpe
Dr. Matthew Sharpe is an Ophthalmologist specializing in refractive surgery and the owner SharpeVision MODERN LASIK, with offices in Seattle, Austin, and Chicago. Dr. Sharpe is a world traveler, pianist, marathon runner, motorcyclist, and fluent French speaker. He enjoys every second of life, but finds he is happiest at home watching Netflix or cheering on The Ohio State Buckeyes with his wife, three children, and two dogs.