Implantable Contact Lenses
Modern ICL Surgery
Dr. Sharpe has performed more Implantable Contact Lens (ICL) procedures than anyone in Washington! And now that the EVO Visian ICL has been approved by the FDA, SharpeVision is proud to be one of the first clinics to offer this advanced lens technology. Come in and see how this fifteen-minute procedure will improve your vision for the rest of your life.
LASIK
Implantable Contact Lenses
Welcome to the future of ICLs!
ICL stands for implantable collamer lens. The Visian® ICL™ is made of collamer, which works in harmony with your natural eye, and is implanted into the eye to correct moderate to severe nearsightedness, with or without astigmatism. Visian ICL is an advanced vision-correction option that is growing in popularity with more than 1 million lenses implanted worldwide since it was approved in 2005, with a 99% satisfaction rate.
Personalization
If you are over the age of 21 and extremely nearsighted, you may be a candidate for the Visian ICL. This procedure is able to treat a range of patients from low to extremely high refractive errors (-3 to -15 diopters) and is especially beneficial to those with thin corneas. It is preferable that the patient has not undergone any ophthalmic surgery and does not have a history of eye disease such as iritis, glaucoma, or diabetic retinopathy. We always perform a complete eye examination as part of our free vision consultation to determine the best vision-correction option for you.
Seattle-Bellevue ICL
Precision
The Visian ICL (Implantable Collamer Lens) is made of 100% biocompatible collagen copolymer that provides UV protection and permanent vision correction. Additionally, the Visian ICL procedure does not permanently alter the shape of your cornea. There is no maintenance associated with the lens, and it is intended to remain in place as long as you are satisfied with your vision. If for any reason it needed to be removed, it can be. The Visian ICL procedure is an outpatient procedure that generally takes 15 minutes per eye. Prior to the procedure you will receive numbing drops. We will create a painless 3 mm incision to insert the folded lens into the eye. Once the lens is inside the eye, it unfolds, is positioned, and the procedure is complete. Patients usually experience an immediate improvement in vision, although the vision will improve for days to weeks afterward.
Austin ICL
Performance
The Visian ICL is positioned behind the iris (the colored part of the eye) where it is invisible to both you and others. It's designed to be completely inert after it is implanted. It stays in position by itself and does not interact with any of the structures of the eye, so you are not aware that it's there except that you see clearly without glasses or contacts. The Visian ICL received approval from the FDA in 2005 for a wide range of myopic (nearsightedness) correction needs. Although the lens is intended to remain in place permanently, a surgeon can remove the implant if necessary. And because your cornea is in its natural state, you're able to pursue other vision-correction options if needed.

Chicago ICL
Get Started
Your First Consultation is Completely Free
Candidate Quiz
Are you eligible?
If you are over the age of 21 and are extremely nearsighted or have thin corneas, you may be a candidate for the Visian ICL. There are some conditions that exclude certain patients. Take the quiz to see if ICL is right for you.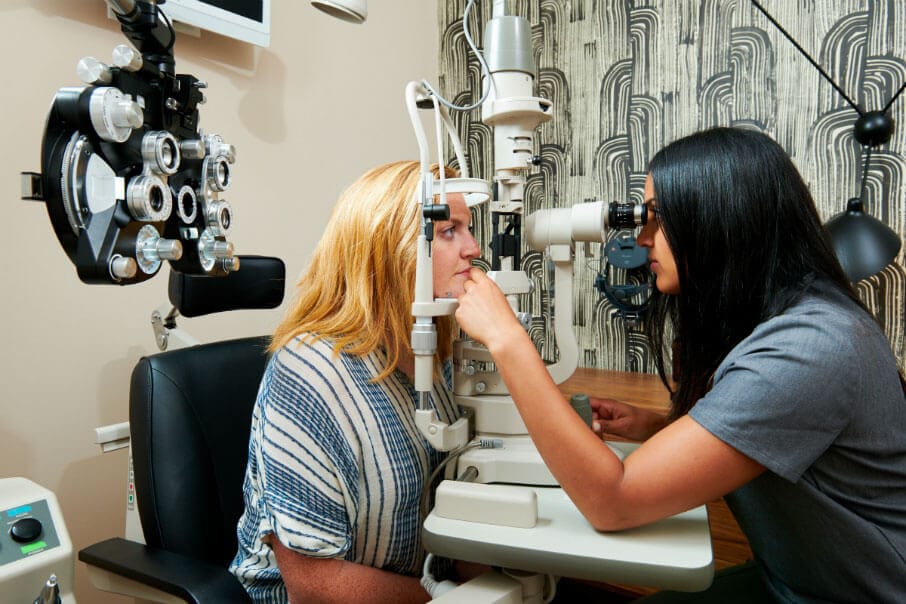 what is ICL?
Dr. Sharpe explains ICL
Watch Video
Testimonials
If you are considering LASIK, I highly recommend Dr. Sharpe and SharpeVision Modern LASIK, it's the best decision I've ever made!
Sam — Chicago
"I've worked in Ophthalmology for over 15 years, and the last 7 with SharpeVision have been the most rewarding. SharpeVision's commitment to excellence has propelled me to want to be my best at all times."
Rocky- Surgical Technician — Austin Team
The whole process from the consultation to the post-operation appointment have been smooth and helpful. The office is welcoming, warm and an overall great environment.
Paulina — Chicago
"I've worked in ophthalmology for 25 years, and I've worked in multiple subspecialties and capacities in that span of time.  SharpeVision is by far my favorite!"
Melissa- Surgical Technician — Austin Team
"Like me, SharpeVision is committed and dedicated to excellence in patient care. I can come to work every day and do what I love. I think we each genuinely LOVE what we do, and it makes a huge difference in our workplace environment and team morale."
Melissa- Surgical Technician — Austin Team
"SharpeVision is beyond a company to me; it has become my family. Working alongside my team has granted me the opportunity to gain knowledge about corrective eye surgery to serve our patients better. 
McKenzie- Ophthalmic Technician — Austin Team
"Being a part of a company committed to being genuine and authentic while having a positive impact on our patients is the ultimate reward! I am so grateful to be a part of something bigger than me with SharpeVision!" 
McKenzie- Ophthalmic Technician — Austin Team
The whole process was smooth and efficient and pleasant from the first call to the check up a month after the procedure. Love the lifetime guarantee as well.
Laura — Austin
SharpeVision provided me the best once-of-a-lifetime experience. Their staff is super friendly and I never once felt unwelcome. I totally recommend these guys.
Jonah — Austin
Dr. Sharpe, Dr. Ganesh and Marina were all wonderful. I highly recommend SharpeVision to anyone sick of glasses and contacts.
Jon — Chicago
What to Expect
MODERN ICL: Start to Finish
Comprehensive Exam
A comprehensive, dilated examination is the only way to know which vision-correction procedure is best for you. We do this at no charge because we believe so strongly in giving patients all the information necessary to make the right treatment choice. While your exam involves comprehensive diagnostic testing, it is also our opportunity to learn more about you, your expectations, and your lifestyle. All of these factors play an important role in recommending the best procedure for you:
The complete exam can take up to 90 minutes. After all the data is collected, our doctor will examine you, discuss the treatment recommendation, and answer any questions you have. Your visit will include dilation of your pupils, which will affect your eyesight for about 4-6 hours, as you may have experienced with a routine eye exam.
Before Procedure
In preparation for the ICL, a separate appointment is scheduled to accomplish three main objectives: We carefully repeat the refraction, or measurements of your prescription after your contacts have been out of your eyes for the prescribed amount of time, and without any drops in your eyes, so that we get the most accurate lens for your eye.
We measure the diameter of your cornea with an additional method.
Your surgeon will perform a laser iridotomy to ensure that fluid flows through your eye normally. This laser takes only milliseconds per eye, and is described by many as feeling like a rubber band snap.
Day of Procedure
On the day of your procedure, we will instill many medicated drops in your eyes to prepare you for the implant. The implant itself takes less than 10 minutes per eye, with about 20 minutes between eyes to prep the operating room.
The procedure is painless, although most people are initially uncomfortable with the bright light of the microscope. There is also numbing medicine that will sting for about ten seconds until it takes effect. Your surgeon will let you know what you'll see and feel.
Your vision will be very blurry and foggy after the procedure due to the many drops, surgery, and bright lights.

Post-Procedure
We will need to check the pressure in your eyes about two hours after completion. You are welcome to stay in the office, or leave and return after two hours. We will review the medications and plan on seeing you the following day. You may experience some mild grittiness, but not pain. If you feel nauseated, vomit, have intense pain, or sudden decrease in vision, let us know immediately. The following day, your vision will be much better, but still somewhat foggy, and maybe mildly scratchy.
Free Consultation
Goodbye Glasses
Insights About Your Eyesight